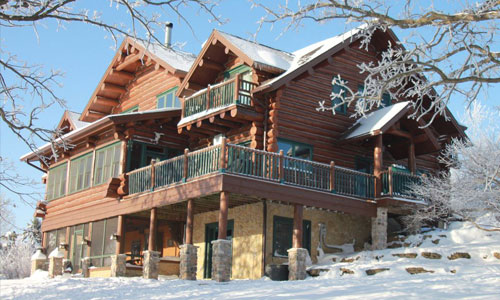 Built in 1996 and originally designed to be a Bed & Breakfast, the custom-built full log lodge offers an unparalleled experience in guest comfort, relaxation areas, and outdoor activities. Attention to detail was the mantra of the craftsman who forged the lodge to include reclaimed wood countertops, a local barn wood mantle, coins integrated into the hardwood floors which mirror the American Club Resort in Kohler, a handcrafted moose and elk antler chandelier, a Michael Feeney carved dragon and full chinking between every log.
Whether you are planning an air B&B, wedding, family reunion, corporate retreat, bachelor/bachelorette party, golfing getaway, or some other group event, the lodge can accommodate all groups. Your group will have the lodge all to yourselves. You will have complete access to the kitchen, outdoor grill, 5 well-appointed bedrooms, and 3.5 bathrooms. Jen and Steve will be available to meet all your requests and make sure your stay is comfortable and memorable. We look forward to sharing our wonderful home with you and your group.
Check-in time is 4:00 pm and check-out time is 11:00 am.
The vacation rental rate for the entire lodge is $1,100 per night. We require a 3-night rental during non-holidays and a 4 night rental during holidays. We have a one-time cleaning fee of $350. The tax rate is 5.5%.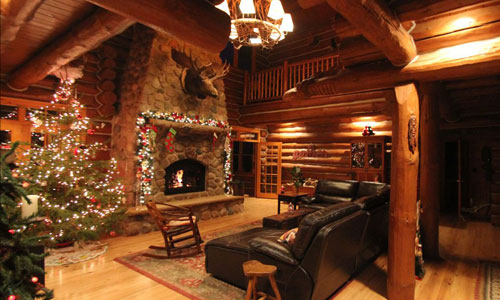 The innkeepers are dedicated to promoting local producers and businesses. Please exploit the innkeepers' knowledge of the local places to visit.
The lodge and innkeepers are environmentally friendly and value the beauty of nature. Some of the eco-friendly and sustainable practices include water catchment systems, an organic garden, composting, recycling, reusing, and reclaiming.