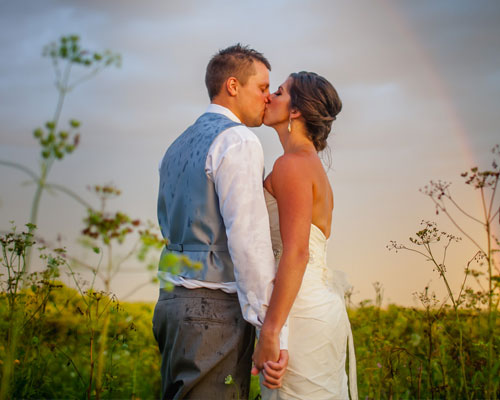 If you are looking for a wedding venue with on-site accommodations, seek no further than Prevailing Winds Lodge in Blue Mounds, WI. Our lodge offers the most intimate of settings for small weddings and breathtaking vistas from high atop our prairie for large weddings. Let the beautiful surroundings sweep you and your partner away as you begin your life together as one. 
Our wedding event fee is a flat fee that ranges from $2,000-$6,000 depending on the size of your group and your individual vision for your wedding weekend.  You will never be subject to any surprise up-charges for the extraordinary services we provide throughout your weekend.
Serenity, nature, privacy, and peace are just a few things you will experience on your wedding day at the lodge. We provide our guests with the ideal place to host a once-in-a-lifetime destination wedding. The lodge does not have any restrictions on the vendors of your choice, but it does offer packages for certain amenities and referrals for local merchants and suppliers.
After hosting your big day at our venue, enjoy your stay in our spacious room with a wood fireplace, bond with your guests, and experience other fun activities.
Our large event package includes: 
-wedding/event planning assistance from the moment you reserve the lodge including reviewing vendors and reception layout
-the ability to have a rehearsal dinner on-site the night before your ceremony
-the ability to have a ceremony on-site
-the ability to have a reception on-site (no size limit)
-the ability to have a brunch, gift opening or final gathering on the day after the reception
-day of coordination of all vendors and schedule timing
-at least 4 staff people on-site 
-ceremony and reception signs
-4 large capacity golf carts for guest and caterer transportation
-on-site parking with golf cart shuttle service directly to and from guest vehicles
-hard line electrical power for ceremony and reception areas
All tents, tables and chairs come from outside vendors of your choice.